E-mail is a very complicated protocol, but ultimately our e-mail delivery system looks something like this: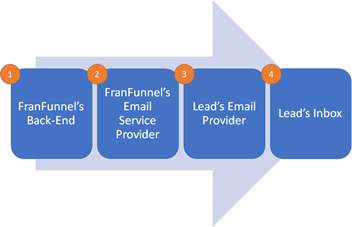 Ultimately, FranFunnel is really only in control of the hand-off from Step 1 to Step 2. And we do everything in our power to make sure that happens immediately after the lead is added to FranFunnel.
From that point, there are two additional steps that have to occur of which we are out of control, the delivery of the e-mail to the lead's provider and the placement of that e-mail into that lead's inbox.
99% of times, this process happens very, very quickly. Thus e-mail seems to be functioning relatively instantaneously. However, there are going to be times where this process gets held up for reasons completely outside of our control.
If you see an occasional situation where the e-mails seem to be late in being delivered, this is almost certainly what's going on. But if you notice this happening more frequently than 1-2% of the time, e-mail support@franfunnel.com and we'll be able to see if there's an issue with the e-mail system.